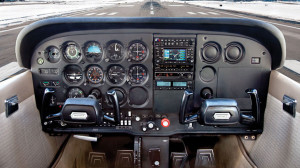 Whether you want to become a career pilot, fly somewhere on vacation, travel for business, or just go up to take friends sightseeing, getting your Private Pilot Certificate is the first step in achieving that goal. If you've been waiting for the right time to start your lessons, now is the time!  New technological advances have made general aviation aircraft safer than ever before. Learning to fly can be an adventure in itself and the Private Pilot Certificate is a most satisfying reward at the end. You'll get an overwhelming sense of accomplishment knowing you've earned the amazing gift of flight.
Our no-nonsense, straightforward approach is tailored to each student's individual needs.  We accommodate most scheduling requirements, so you progress at a pace which feels most comfortable to you.  Unlike some other flight schools, TriState Aviation strives to make the process as smooth as possible, and most importantly — fun!
Contact TriState Aviation today to find out more and get started.